Type of food: dry.

Age: adult toy and small breeds.

Main protein ingredient: chicken meal.

Breed: all breeds.

Available formats: 10 kg.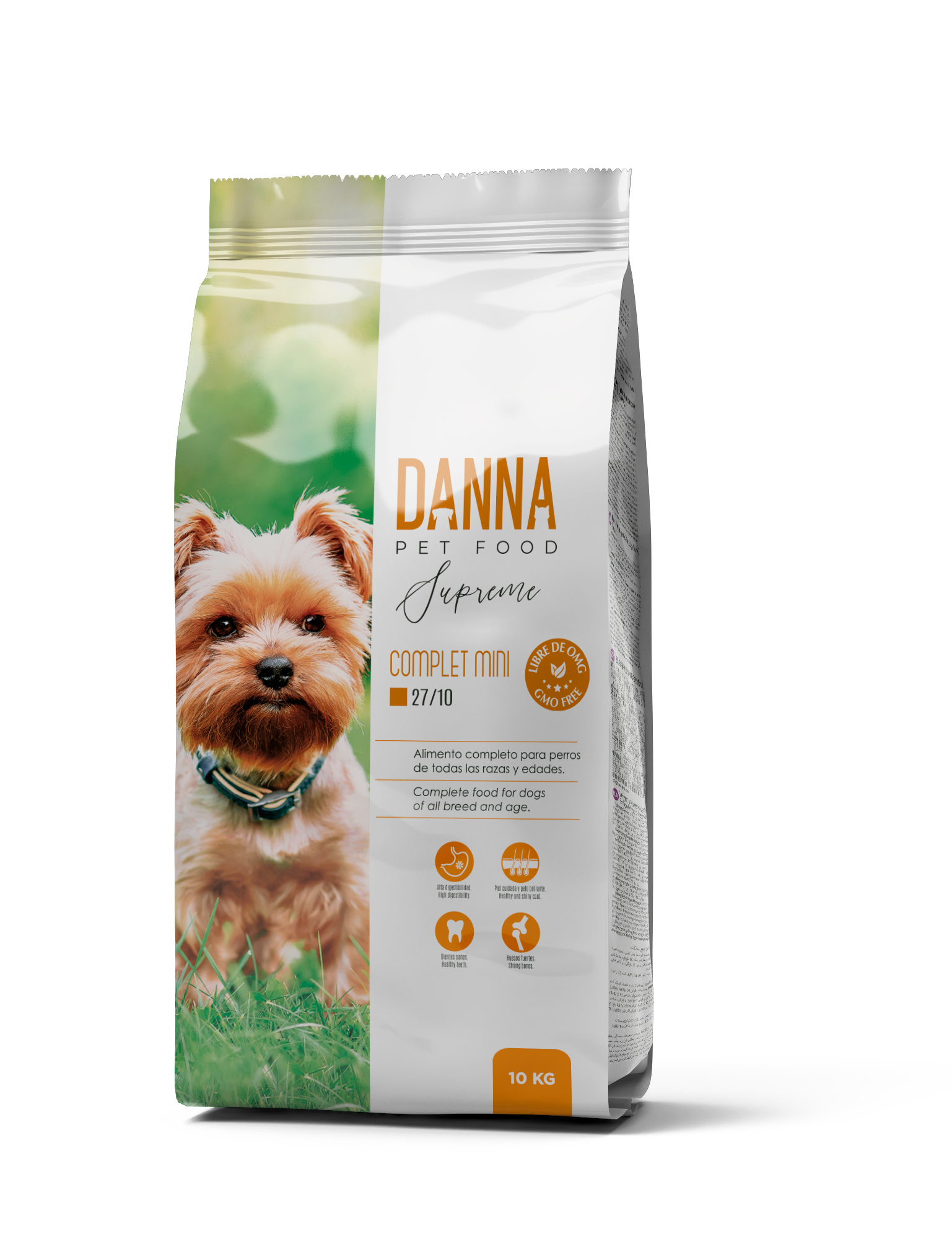 Nugape has developed a new pet food range following strict quality criteria in the selection of raw materials with the aim of creating products of high nutritional value. Danna Premium is formulated with GMO-free cereals.
DANNA PREMIUM ADULT MINI is a complete and balanced food, designed to meet the needs of toy and small dogs and achieve optimal nutrition through high-quality, healthy ingredients, following the quality guidelines set by the ISO 22000 and IFS Global Market standards.
GMO-FREE DOG FOOD
Healthy ingredients that have been analyzed and tested.

 

Animal protein: chicken and lamb meal.

Optimal digestion (adapted feed particle size –small kibble – and digestible ingredients).

High palatability (betaine HCl, oils and fats).

 

Cardiovascular health (taurine and L-carnitine).

Joint health (glucosamine and chondroitin sulphate).

Immunological protection (mannans and beta-glucans).
USE AND SPECIFICATIONS:
Complete, balanced food for adult toy and small breeds. 
Adapted kibble size and hardness.
The animal protein comes primarily from chicken meal (34%), which is then supplemented by lamb meal (5%). Ingredients proven to be highly digestible and appetizing. A palatability heightened even more by adding chicken fat (8.5%), brewer's yeast (2.5%), and a pea-based palatability enhancer (2%). 
The recipe is completed with cereals such as corn (31%) or rice (5%), both GMO-free. In the plant-based ingredients section, we also have beet pulp (4%), apple pulp (2.5%) or Yucca schidigera (3 mg/kg); in addition to beta-glucans (100 mg/kg) and mannans (100 mg/kg) to support the immune system; and a vitamin complex fortified with taurine (100 mg/kg) and L-carnitine (100 mg/kg) for cardiovascular health; glucosamine (50 mg/kg) and chondroitin sulphate (50 mg/kg) for healthy joints, and several B vitamins, as well as Vit A, Vit A, Vit D, Vit D3, and Vit E – essential to maintaining good physical condition.
With a correct balance of proteins, fats and carbohydrates, this product meets the energy requirements (MER 3,500 kcal/kg) of toy and small dog breeds, with a kibble format that is easy to digest. 
ANALYTICAL CONSTITUENTS: crude protein 28%, oils and fats 14%, crude fibre 3.4%, inorganic matter 7%, humidity 9.5%.
MINERALS
Calcium 1.92 %
Phosphorus 1.25 %
Iron 209 ppm
Copper 7.60 ppm
Manganese 18.40 ppm
Zinc 55 ppm
ADDITIVES (PER KG): nutritional additives: vitamins, pro-vitamins and chemically defined substances having a similar effect: vitamin A (3a672a) 18,000 IU/kg, vitamin D3 (3a671) 1,800 IU/kg, vitamin E (all-rac-alpha-tocopheryl acetate 3a700) 240 mg/kg, vitamin B1(3a821) 4.5 mg/kg, vitamin B2 (3a825ii) 7.5 mg/kg, vitamin B6 (3a831) 6 mg/kg, niacin (3a314) 30 mg/kg, folic acid (3a316) 1.5 mg/kg, biotin (3a880) 0.12 mg/kg, betaine HCl (3a925) 500 mg/kg, taurine (3a370) 100 mg/kg, L-carnitine (3a910) 100 mg/kg.
Technological additives: with permitted preservatives (citric acid E330: 30 mg/kg), antioxidants (E320 BHA + E321 BHT: 121.40 mg/kg), and binding agents (E562: 3,960 mg/kg).

COMPOSITION: Meat and animal by-products, cereals, oils and fats, brewer's yeast, inactive yeast cell walls cultivated on substrates of vegetable origin (mannans 100 mg/kg and beta-glucans 100 mg/kg), glucosamine (50 mg/kg), chondroitin sulphate (50 mg/kg), Yucca schidigera (3 mg/kg) and mineral substances.
Check feeding guidelines. Feed recommended amount initially and adjust to maintain ideal body weight. Recommended quantities are:
MER 3500 kcal/kg

WEIGHT OF
ADULT
DOG kg

g/day
g/day
g/day
g/day

CONDITION
FACTOR

 

Maintenance

Low Activity

Average Activity

High Activity

TOY
BREEDS

1
37
47
58
60
2
60
75
93
96
3
80
101
125
129
4
102
127
158
163
5
124
155
193
199

SMALL BREEDS

7,5
171
214
265
273
10
213
267
330
341
You can request a specific chart for your pet from our technical department
Recommendations for use: 
It must be fed dry, divided into two or three meals. 
Pets must always have clean, fresh water available. 
Store in a cool, dry place away from sunlight. 
Changing food must be done gradually over a 7-day period. 
Uneaten food must be removed and not left in the dish. 
In the event of continued lack of appetite, check with your vet and/or our technical department. 
Unfit for human consumption.

Whichever range you choose, quality is always assured,
because our mission is to always give the best.